Lisi Loo got a new dress for Thanksgiving. I had planned on having it finished a couple days early, photographing it, and having the post ready to go up Thursday for (our American) Thanksgiving. Then I decided to hem the (very very gathered) skirt by hand. Needless to say, the dress was not ready in advance, but the results? Worth it.
The bodice is based on my self-drafted scoop back dress - shortened, sleeves added, and back raised enough to fit two buttons. Unfortunately, I forgot to adjust the shoulders for the addition of sleeves (I should have widened them a bit) and didn't realize until after I had cut out the bodice. I was worried the dress would be constantly slipping off her shoulders, and I'll admit they did a few times - but they popped right back up on their own. Crisis averted.
It would have been kind of a crisis, too, because the bodice was made from an old short-sleeved sweater of mine, and I didn't have an inch to spare. The buttons originally went about halfway down the front, but I cut the back of her dress from the front, the front from the back, and the sleeves from the bottom of the sweater.
The sleeves were another lucky break. I didn't want short sleeves (it's chilly here in November!), and didn't have enough sweater for long sleeves, so I just cut them as long as I could and hoped they would be a stylish three-quarter length, not an awkward where-did-the-rest-of-her-sleeve-go length. I suppose I could have measured, but what's a little holiday sewing without some mystery and nail-biting? The bodice is also lined with some nice thick stretchy white knit from an old t-shirt.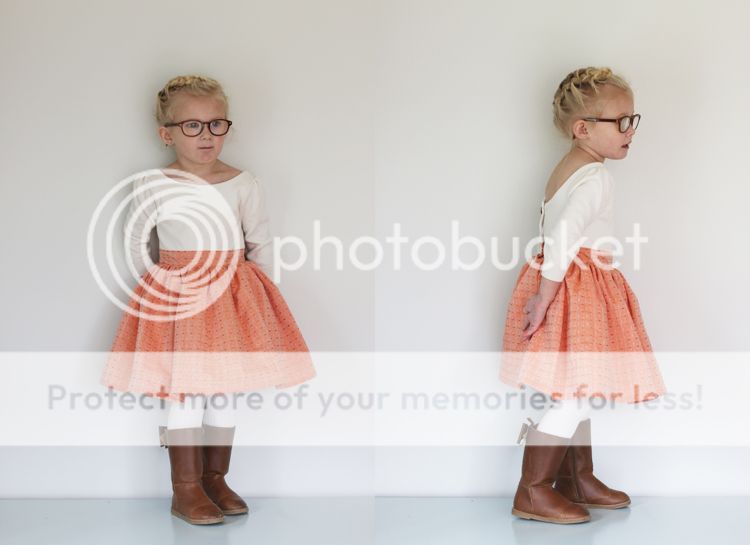 The skirt...THE. SKIRT. It's three layers - all gathered ridiculously and I'm so giddy about it. I was originally going to pleat the outer skirt (actually, I did pleat it and then was so excited about what I'm about to share that I took it off, gathered, and reattached it) and gather the two underskirts together to add a little volume. I tried out
this method
for gathering on my serger. I'm not exaggerating when I tell you it had changed my (sewing) life. I've been anti-gathering for a while now, mostly because I'm pretty particular about getting my gathers even and I found the process to be really tedious. This method was FAST and EVEN and EASY and I'm never going back. Never ever. Okay, enthusiasm coming back down to normal levels now.
The main skirt fabric was picked up at an estate sale last spring. I have no idea what the content is, but it has white warp threads, and orange weft for a chambray look. There is also a T design woven in that adds a lovely detail and keeps it from looking too peachy. The underskirts are from my mom's old curtains.
Lisi Loo doesn't very often have an opinion on her clothes at this point (and I know what a lucky mama that makes me) but both days since she's requested to wear her "Tankstiving" dress before she even says good morning.
Like I said up top: worth it.